Used Tricaster XD 40
TriCaster 40 is an all-in-one live production and streaming system that lets you publish live media, reaching more viewers—in more places—affordably. It's the answer you've been looking for to solve your switching, streaming and recording demands—in one compact system. Right out of the box, push the boundaries with bigger-looking, network-quality live productions—every time.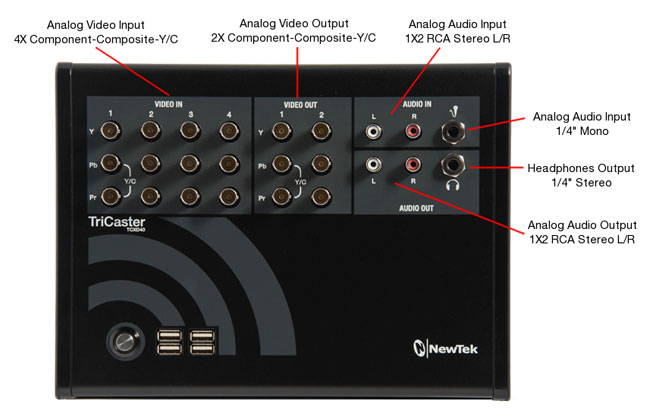 CALL For Discounted Price
Used Tricaster XD 455

TriCaster 455 is the affordable, integrated solution to produce your 4-camera, 14-channel, HD live show with maximum creative firepower—but with minimal proportions. Designed for mobility and scaled for small spaces anywhere, TriCaster 455 provides rapid setup, complete live production capabilities, built-in multi-track ISO recording, and the world's most powerful switcher effects system, for smaller shows to make the biggest impact from any location.
CALL For discounted Price
Used Tricaster XD 855
Right out of the box, TriCaster 855 is a complete, integrated solution for pros delivering big, live productions in native, full-resolution HD. With a fully loaded, 24-channel switcher, whopping eight-source ISO recording and the world's most powerful integrated effects system (can you say 3D?), plus additional video, graphics, animations, and virtual sets, TriCaster 855 makes productions shine and meets today's demands to produce and deliver the best for your viewers in a highly competitive marketplace.
Volumes of customizable signature looks make each program distinct
Impressive effects with real-time cloth dynamics, warping video, overlays and sound
Higher-capacity media storage accommodates a high volume of project work
The flexibility to go from show, to show, to show, adding new camera angles along the way—up to eight, for the most sophisticated programs
Built-in live streaming at the push of a button
Stream, broadcast, project and record—all at the same time—so you can meet viewers wherever they watch, now or later
CALL For discounted Price
VT[5] Live Dual Xeon System Special


With SX-8 & Dual 24" LCD Monitors


Call Us at 1 800 379 7267 for Configuration Details and prices